How to Find a 1v1 | 1v1LB.com Tips
By DariuL 1 year ago
How's it going, all?
I've seen that some people still struggle to find people to play for warm ups, friendly matches, or general ranked matches. This post is to help increase your chances of finding someone to play with for your specific game much quicker.
Below, I'm going to list most great ways to interact with other 1v1ers and get yourself out there more.
Here we go: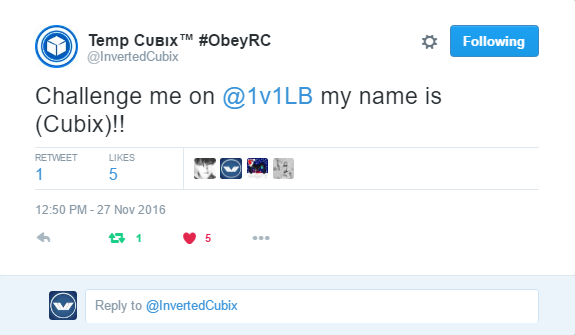 You can find players by using your twitter account to tweet us with your specific game and in-game name to play a match you want. Example: "@1v1LB Looking for a warm up 1v1 on BO2 PS3. Message OpTic Predator or DM me". As long as you tweet us, we will share your post with our followers.
You can follow us on Twitter by clicking here.
We encourage you to also put the @1v1LB in your bio to help us grow as a community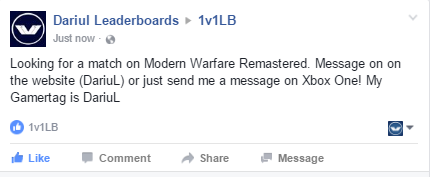 You can simply do the same as Twitter but on our Facebook visitor posts. Just click below to go directly to 1v1LB's Facebook page and leave a post. Leave a like while you're there!
1v1LB Facebook: 

https://www.facebook.com/1v1LB/
Using the 1v1LB Shoutbox and Match Finder

You can use the two icons at the bottom right of your screen (desktop or mobile device) to either select your preferred game to sign up on the ranks and create a Match Finder post, which allows you to create an anonymous post (that expires after some time) that lets other players who come across it to accept your match and contact you in a few minutes to play.
The shoutbox (blue icon with chat bubbles) is a very effective way to speak to other online members. It is often used for general discussion, but can be useful for posting a message asking if anyone wants to play your preferred game.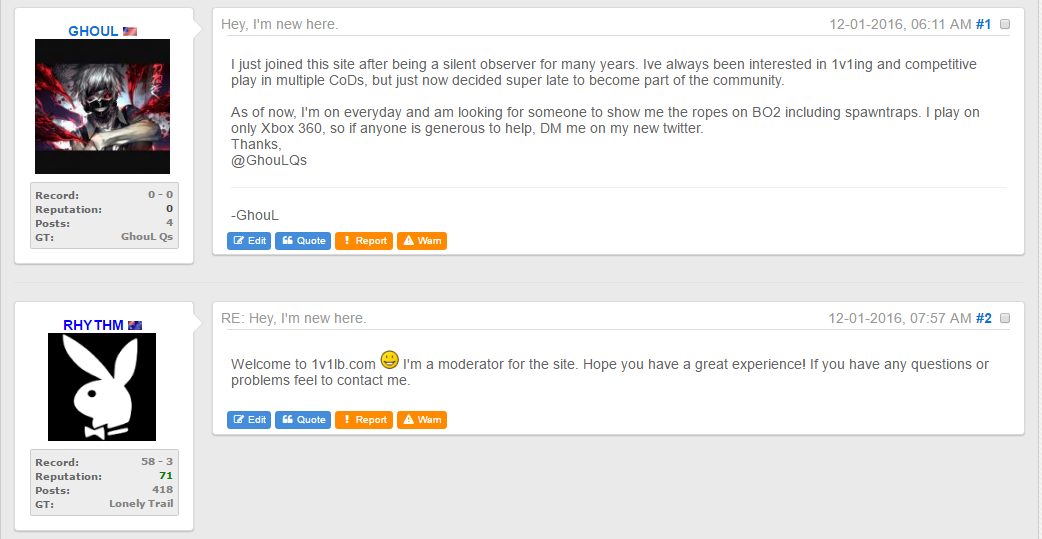 You are more than welcome to introduce yourself on the website in the forums. Get to know others by replying to their posts as best as you can, and leave your opinions or interests out there for others to reply to. 1v1LB Staff encourages high quality forum posts, and we generally like to bring in new referees/moderators based on how active they are. Forums is a great way to display your activity and interest.
You are encouraged to join our Xbox Club called Official 1v1LeaderBoards Club. You can use this to find other players online directly by seeing their Gamertags. Feel free to invite your friends to it as well!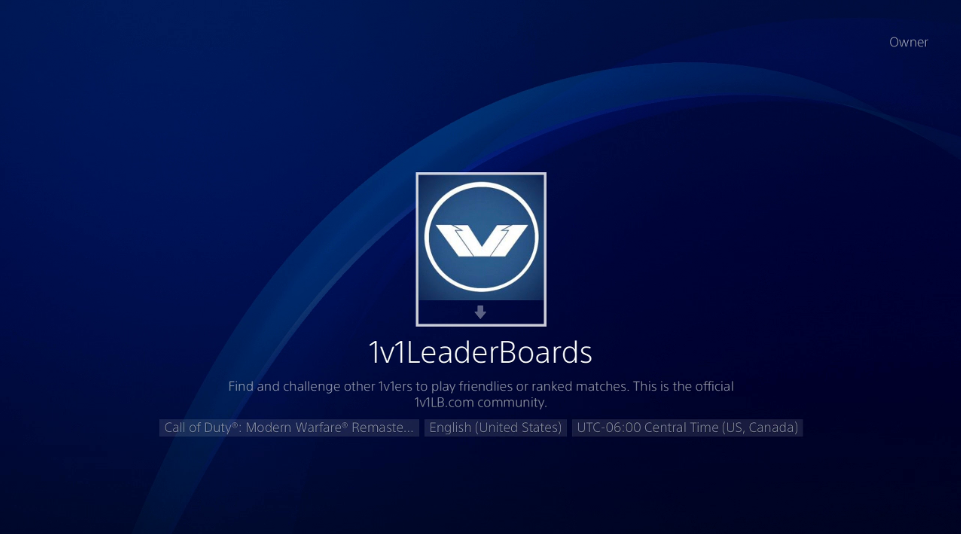 We've created a community on PS4 that is open to anyone. Use this community to find other 1v1ers' PSNs and interact with them to make friends or find matches. 

Read more about this community by clicking here.
Sending Challenges to Players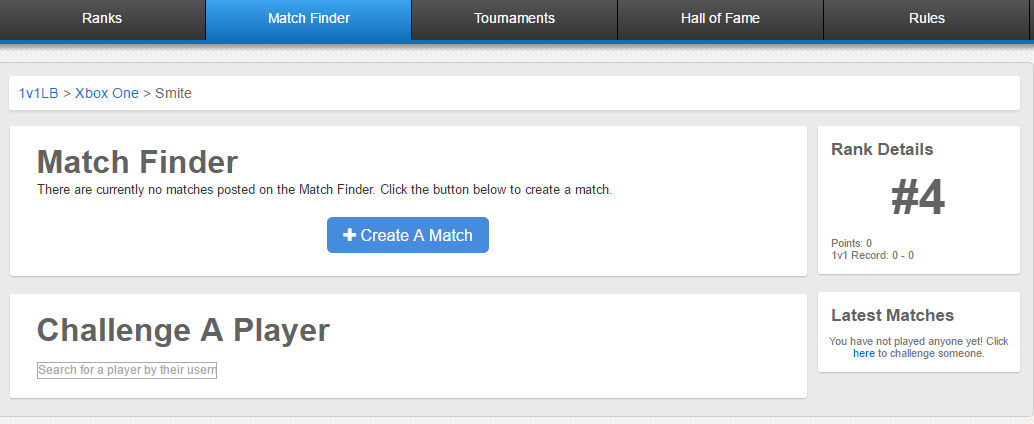 You can sign up on any of the ranks that you wish and select the Match Finder tab. On this page, you may find the match finder post feature, or you can simply search a 1v1LB Player's username and send them an official challenge request.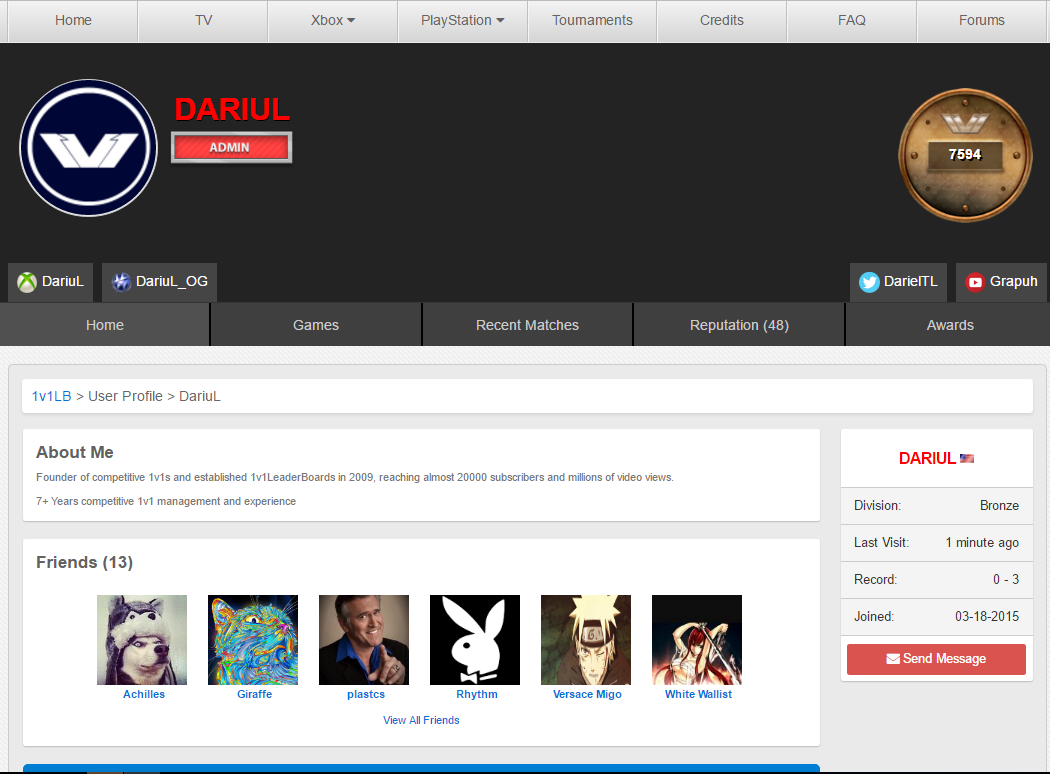 Perhaps the simplest way, just message them personally! Be nice about it, doesn't necessarily have to sound like a call out. If you want to play a friendly, make it clear. If you want to do a ranked match, let them know. Send a private message by visiting a player's profile page, or you can check to see on their profile what their in-game usernames are on Xbox/Playstatio
n, as well as how to contact them on their social media profiles.
---
If you have any other ideas that I did not suggest in this list, please let me know so I can add it in.
Questions or concerns? 

Refer to this FAQ Page for general help.
Contact me on Twitter 

@DarielTL

 or 

@1v1LB

 and interact with your questions there if you'd like.

Hope this was all helpful.