How To Support 1v1LB
By DariuL 1 year ago
Hope everyone is enjoying the New Year so far!
My name is

DariuL

,

one of the owners of 1v1LB, and in this article I'll be going into detail and giving answers for questions that I receive often, such as:
How can I join staff and gain trust?
What can I do to help this community grow?
1v1LeaderBoards is on the edge of exploding into the scene and we're so glad to have you here with us in the beginning, so all of the support from every member is vastly appreciated and

we do notice who is helping us

.
Below is a detailed list of what

YOU

can do to help this community grow and even raise your chances of joining staff as a moderator one day!
Show off to the world and your friends what you're about. Put your current rank and 1v1LB.com on your console bios or social media bios like Twitter.
Feel free to use these 1v1LB Banners on your profile! All credit goes to Sovzy, so please follow him for his generous work!
Interact with us on Social Media
Stay connected with us and follow 1v1LB on our social media platforms, which is also the BEST way to learn about new updates and tournaments before anyone else!
Support the 1v1ers and editors by saying something nice in the comments and liking content uploads that go up on 1v1LB's Youtube Channel. The community puts in a lot of hard work and effort into making something entertaining for you, and more feedback encourages players to keep this kind of great content alive!
Retweeting and liking our posts or simply replying to us on Twitter is
You can also like us on Facebook and to receive the occasional post that we also share on Twitter.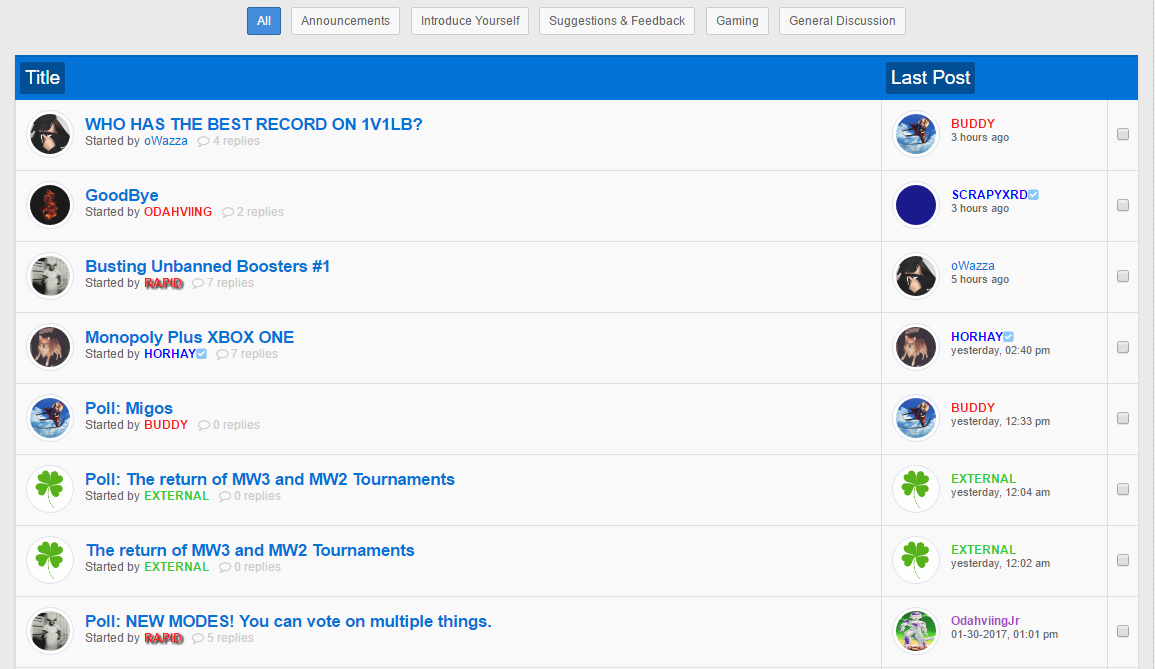 A lot of members seen to underestimate how useful or fun forum posts can be. Staff

LOVES

when members post interesting topics that get lots of replies and a conversation going. This keeps interest in the community.
We suggest posting a high-quality post, be detailed and very clear, and write it in a way that encourages members to reply with their opinions. You can talk about anything! Games not related to COD, movies, music, or talk about what you'd like to see on 1v1LB.com as a new feature and why.
This is how ideas grow into a reality.
Place us in your Youtube Subbox
You can help the community grow if you are a Youtuber by putting us in your video descriptions or something as simple as place us in this section (shown above) on your Youtube channel. Let people discover competitive sniping!
Refer New Members to 1v1LB.com
Upon registering an account on the website, there is a section that allows you to place another member's username as a reference! Staff can keep track of what accounts were referred to by a specific member and how many!
We reward Elite Membership for

FREE

 to 1v1ers who get a large amount of references!
We have a very active community chat for 1v1ers! Join and discuss anything and everything, or have extremely 
easy access to communicate with staff members for support. 

Discord Server: https://discord.gg/fPRGnXM
Talk to staff and administrators about your ideas along with posting them in the forums! When players go out of their way to offer ways to improve the website in forums or by directly speaking to us, we notice and we remember.
Be Respectful.
Be Inviting.
Welcome to the Family
.
People are turned away when met with trashtalking or rude players. This community as a whole is competitive eSports and a place to make friends and have fun. Keep negativity out of the shoutbox and forums, and offer helping hands to new members to give them direction.
Thank you so much for your help and keeping this community thriving.

---
JOIN THE 1V1LEADERBOARDS TEAM: 
http://1v1lb.com/blog.php?id=20