COMPETITIVE TEAM SNIPING IS HERE!
By DariuL 1 year ago
GREETINGS, ALL!
As you can see, we've added a new tab to the website. 
TEAMS! 
This is for 4v4s and 2v2s, on Call of Duty: Modern Warfare Remastered and Call of Duty: Black Ops 2, Xbox only for the time being. 
We are indeed going to be releasing MWR next for PS4 very shortly here so please be patient.
Here's the rundown:
Team leaders are in charge of all functionalities when it comes to challenging other teams, roster management, and profile setup.
If you are registered with us, you can create a team (and abandon/disband it) to invite anyone to join it provided with some roster capacity restrictions. For the 4v4 ladders, you are allowed up to 8 players on a roster. For 2v2 ladders, you are allowed 2 players max.
You are also not able to double roster! This is to help people play legit teams, and keep people from clan hopping so often or playing for several teams at a time.
You can only accept or send challenges if your team is eligible. This means you must acquire the minimum amount of players to start a match for a respective ladder.
If you are looking for a team or looking to start one, you are free to use the forums to promote it on a specific ladder, inviting players manually by searching their name, and
most importantly, using the Free Agent section. Become a Free Agent by commenting to introduce yourself and ask for an invite to a team!
Once you have an eligible team, you can start competing by accepting or sending direct challenges to other teams on the ladders by searching their name, or you can utilize the Match Finder feature, as shown below.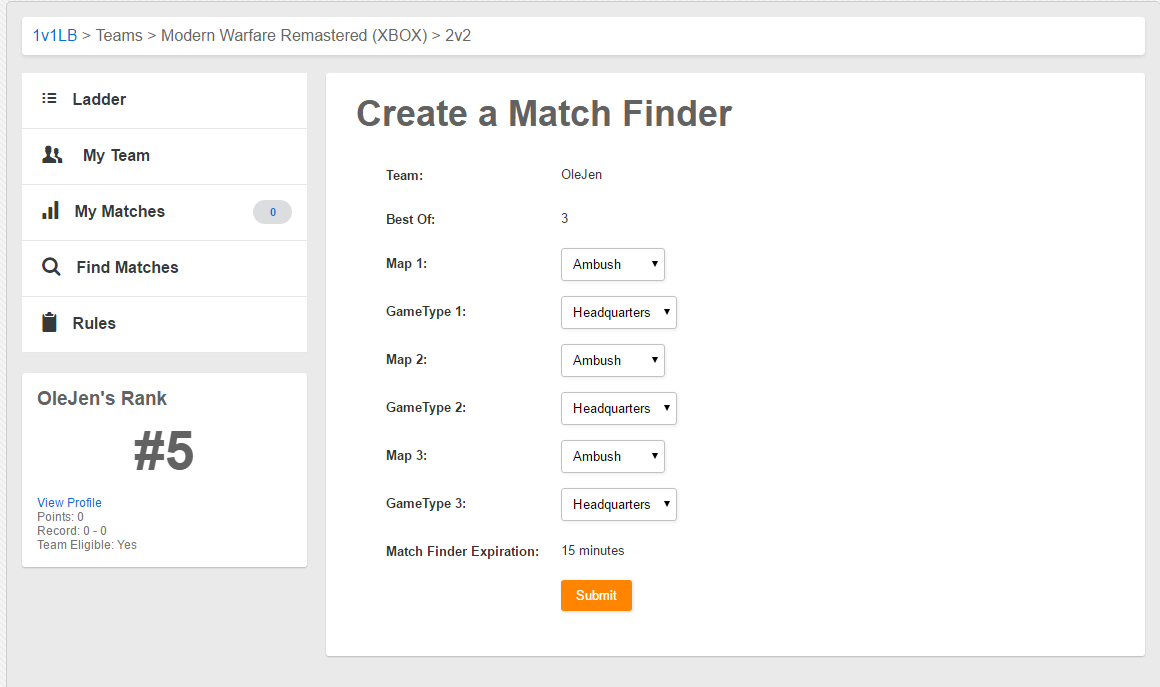 We recommend getting an avatar to represent your team and updating it to show off on the ranks! Go to the Team Settings to setup your social media, Youtube channel, and Team profile picture. Other features like inviting players and managing your roster to change how it is publicly viewed to the world are also found in the My Team options, seen below.
Rules can be found on the respective ladders, and if you'd like to see anything new or tweaked, please let us know immediately! This is a very new era for us and we want to listen to you guys on ways to improve the experience for you and construct the best rules and environment possible.
If you need any help or encounter any issues, I encourage you to contact me or
other staff members
.
START COMPETING AND CLICK THE LINKS BELOW!

TELL YOUR FRIENDS!
XBOX MWR 4v4s
XBOX MWR 2V2S
XBOX BO2 4V4S
XBOX BO2 2V2S
Contact Us
DISCORD SERVER: https://discord.gg/fPRGnXM