Sign Up for Black Ops 3 Ranks
By DariuL 2 years ago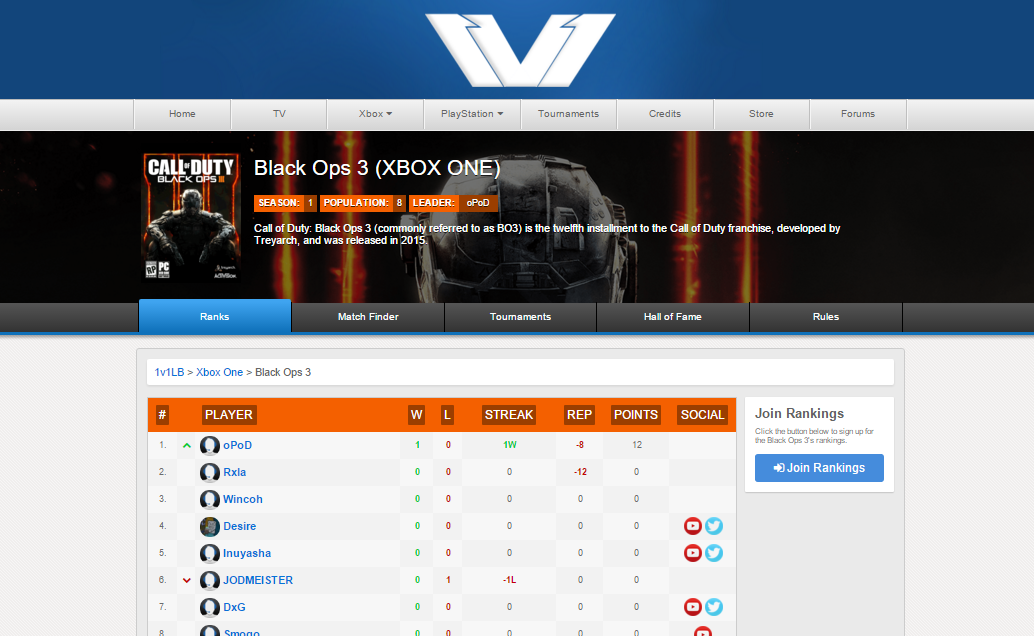 The long awaited new installment of Call of Duty is here.. Black Ops 3.
1v1LB has developed the official competitive sniping rules for Call of Duty: Black Ops 3 and has released the ranks for Xbox One. Sign up
here
.
The first ranked match EVER has taken place already and an edited video has been uploaded on this blog.
oPoD
prevailed over
JODMEISTER
with a 2-0 to take first place on the ranks!
[Video:
https://www.youtube.com/watch?v=DDpSbEFbek0
]
It seems Nuketown may very well have some spawntrapping that is still waiting to be discovered. We will see as more ranked matches occur and the map is more thoroughly explored.
You can view the rules to the official Competitive Sniping Rules for Black Ops 3
here
.
If you have any suggestions or feedback on rules, please contact
DariuL
.
---
Contact Us
Email: [email protected]
Private Message DariuL
kik - 1v1LB
Keep up to date with tournament wins and updates during live matches by following us on Twitter! 

https://twitter.com/1v1LB
Follow us on Twitch for livestreams of tournament matches: 

http://www.twitch.tv/1v1lb/profile
Like us on Facebook:
https://www.facebook.com/1v1LB-1657565881181579/?ref=hl